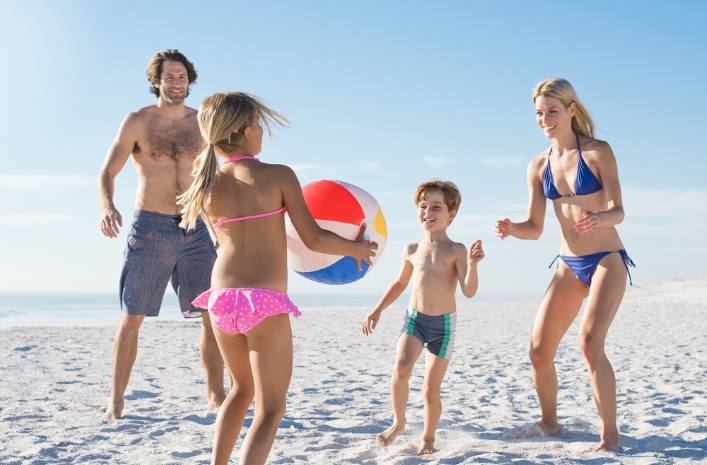 Every year, people jump in cars or hop on planes to make the trip to the Tampa Bay area for family spring break trips, looking for that magical experience that can make a family vacation truly memorable.
And you live here!
Family Spring Break
It's a common joke around Tampa Bay that residents hardly ever get the time to go to the beach or amusement parks anymore. Life gets busy and, frankly, it's easy to get used to the outrageous number of attractions available in the area.
But spring break – spring in general, really – is one of those times to take advantage and have fun with the family. Not only is there plenty to do, but the weather is great. We all know how hot it's going to be in a month or two!
With that in mind, here are five ideas of where to go this year on a family spring break adventure.
Clearwater Beach
TripAdvisor recently ranked Clearwater Beach as the No. 1 beach not just in Florida, but the entire country. The site sang the praises of the many things to do in the area, but noted that even with "hundreds of things" to do "the main attraction is still pretty much its near-perfect beach." They especially called out the "beautiful white sand" and "clear, shallow water" as making it the "ideal playground for families." And for Tampa Bay residents, it's just a short drive away.
Other Beaches
As if having the No. 1 beach in the country doesn't make you feel lucky enough to live in Tampa Bay, TripAdvisor also listed two other beaches in the area among the best in the country. One is Siesta Key, just down I-75 past Sarasota. The other is St. Pete Beach in Pinellas County. The site ranked them as they No. 2 and No. 7 best beaches in the country, respectively.
Busch Gardens
This mainstay destination for a fun day in Tampa just keeps getting better. The park is the roller coaster capital of Florida, with six major coasters to try: Kumba, Montu, SheiKra, Cheetah Hunt, Cobra's Curse and Scorpion. They've got plenty of kid-friendly places to hang out, including the Sesame Street Safari of Fun and Treetop Trails (where kids can easily have fun for hours).  For adults who want to have a little time on their own, there's the Food & Wine Festival happening throughout March and April. An added bonus: there are discounts available on passes for Florida residents.
Staycation
If you don't want to take the time or spend the money on a waterpark this spring break, it's a snap to create one of your own for a house or neighborhood party. Check out the water slides you can get, ran
Orlando Road Trip
It's a short drive up I-4 to Orlando, where the number of family-friendly amusement parks are legendary. They include Walt Disney World (Magic Kingdom, Epcot, Animal Kingdom), SeaWorld and Universal Studios, among others. If you come with the right laidback attitude and are not in rush, it's well worth the time even with big crowds. Pack up the car and hit the road!ging from the Little Wave to adrenaline-inducing monsters such as the Hurricane Slide or the Tidal Wave. It's hard to go wrong with any of the choices, and easy to find one that's right for your family, friends and neighbors.
These are some of the options, and we haven't even mentioned the cultural attractions if that's what your family wants to do. Those include great museums, music and art galleries all around the Tampa Bay area.
Whether you decide to stay at home or go out, the Tampa Bay area is one of the best places to be for a family spring break. Just ask the people getting off the planes at Tampa International Airport.